We know this holiday season, although may look different, will be more important than ever. 2020 has been a long and exhausting year for many. Between families hesitant to travel, and grandparents keeping safe distances, this year will be the year for mindful gift giving. This includes supporting the shops, brands, and industries that have already faced much hardship in the last eight months. This is why we have created this exclusive gift guide to help you give thoughtfully to everyone on your list.
Foodie gift boxes from Palm Event Center
Give the gift of a festive box curated by Palm Event Center's head chef! There are lots of fun treats including their famous spiced almonds, homemade preserves, a tea towel and more. Not only would this be a great gift for the food enthusiast in your life, but it would also make a perfect hostess gift!
Jewelry under $100 by Lulu Designs
Lulu Designs offers a wide range of well-made, trending jewelry styles. There are dainty necklaces with inspired charms, dangling earrings as well as posts, and stacking rings available in this reasonably priced collection. Shop Lulu Designs to add a little sparkle to someone's wardrobe with these everyday pieces.
Reindeer Wreath from Petite Petal Co.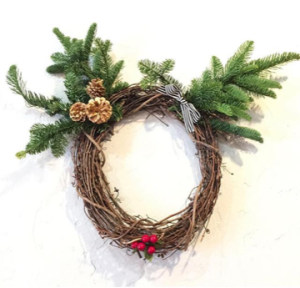 These adorable reindeer wreaths are now available for pre-order from one of our favorite local flower shops, Petite Petal Co. The wreaths are made with grapevine branches and are accented with a variety of holiday evergreen, gold pinecones and stripped ribbon. This might be the kind of gift you order two of… one for the recipient and one for yourself!
Gifts for someone who loves to be active
While there are many great pre-packaged gift boxes on the market right now, it can also be fun to create your own! If you are looking for a gift for someone who loves to be active and stay fit, there are so many great products from small businesses that you could use to make your own curated gift set. These compression sleeves are offer the benefits of compression tape in the convenience and affordability of a reusable sleeve. Vuori is based in Encinitas, California and offers apparel inspired by an active California coast lifestyle. OMGI's workout and yoga mats are thicker and stronger than the average mat, and are sure to be a great addition to your gift set.
Pampered treatments at Spa Aiyana
Carmel Valley Ranch is not only home to a beautiful golf course and sprawling winery; they also have a high end spa. Spa Aiyana offers a wide range of services to indulge in ultimate wellness from lavender honey massages to award winning facials. With gift cards available, this is the perfect way to provide someone a relaxing experience to pamper themself.
Membership to Napa Valley Winery Exchange
There's no question that Napa Valley produces some of the most exquisite wines in the world. Give the gift of wine abundance with a membership to the Wine Club at Napa Valley Winery Exchange. There are a variety of subscription packages including a 12 bottle pick, or specialty options for Pinot Noir, Cabernet, and Chardonnay lovers. We recommend the Monthly Marvels Club which delivers a white and red wine each month. This is the perfect gift for any wine enthusiast you know!
Creative cookie kits from Los Gatos Sugar House
Los Gatos Sugar House creates flawlessly designed sugar cookies that are as tasty as they are beautiful. While there are several options for custom-made cookies (which we suggest for your next event), we recommend shopping for DIY Cookie Kit this holiday season. The kit includes six cookies, three varieties of icing, sprinkles, instructions and sample photos to make your own festive set. This is a great gift for a family or anyone young at heart. Consider purchasing a set to make Santa's cookies extra special this year. Please note this is available for local pick up only.
Unique gift boxes (that give back!) from Gratitude Collective
Gratitude Collective is a boutique studio focusing their efforts on curating high quality, small batch gift boxes that have donations built into the price of purchase. Additionally, you have the option to add flowers to the gift box on local deliveries. There are many options available, including custom orders, providing thoughtful gifts for a wide range of recipients.
Are you ready to start shopping for the ones you love? We hope this exclusive gift guide will help you give thoughtfully this holiday season!