There's always that ongoing joke about bridesmaids dresses, you know the one — "it's great because you can actually wear it again!" I personally can count how many times I have actually reworn a bridesmaids dress. How about you? Let's break this stigma together, one wedding at a time. To help, we've put together a collection of bridal party attire inspiration to help you vision the flawless look for your dream wedding day.
Ready to get into our best advice? Keep reading for the best bridal party attire inspiration.
Allow personal style to make an appearance
To help make the statement about rewearing bridal attire true, allow the bridal party to select their own look based on provided guidelines. We highly recommend this approach. When each individual can select their own looks, everyone can wear something that will allow them feel comfortable. Ultimately this leads to more energy available to focus on fulfilling the supporting role for the day.
This also gives the bridal party flexibility to dress according to their current body shape and lifestyle.
Use color to brighten the day
Color can be used in a variety of ways on a wedding day and the bridal party attire is a great place to continue the color story. There's many techniques to incorporating color into the bridal party attire. For instance, it may be used to compliment or contrast other colors in the palette, as a form of symbolism, to add vibrancy to the day, or to further express personal style.
Here we can see how a color is used to distinguish different roles within the bridal party.
Take a look at hour secondary colors, accessories, materials, and textures can also be used to help distinguish important people.
Consider the time of year, venue, and overall vibe
When you are deciding on the attire for all, bridal party included its important to consider important factors. These may include the time of year, climate, venue, and/or the overall vibe. This may reflect in both the color choices and the style of garment. Materials, accessories, and dress code should all be taken into consideration.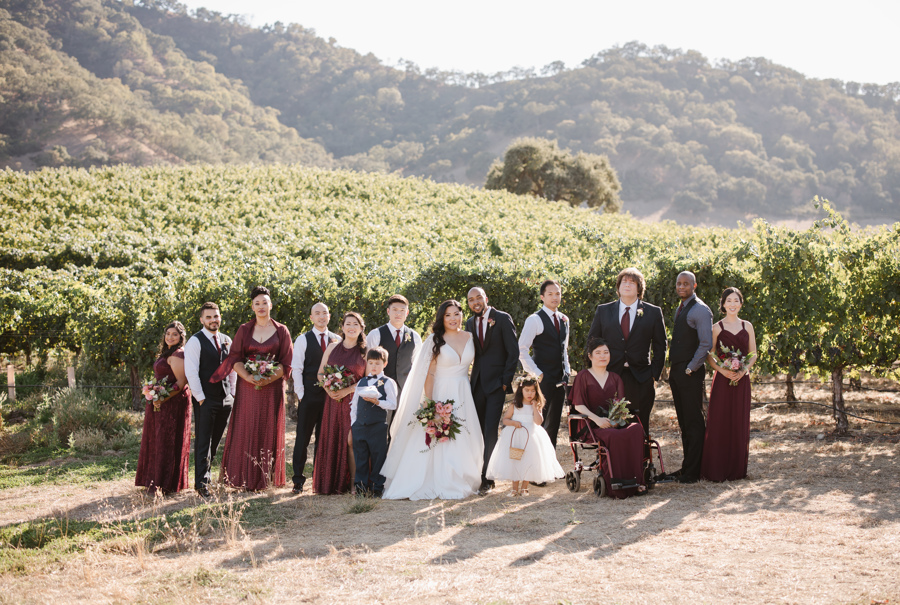 Darker colors and jewel tones can be great for a fall or winter wedding, even if the climate doesn't always reflect cooler weather.
Neutrals are an easy way to keep things cohesive. It's also appropriate year round, offering further flexibility.
Pastels can bring a fresh look for spring, summer, and warmer climates.
Most importantly, it's important to stay true to what you want. Consider what you'd like to see when you look back at photos.
MAKE DECISIONS BASED ON your dream wedding
If you're still feeling conflicted as to how to best style your bridal party, that's okay. We are here to help! We love working with you to bring a custom design to life that fits your dream vision. Contact us today if you need further guidance and wedding support.